Public studio recording session
Nov. 25th 2023, 8 pm, PAYW
Ad Libitum Quartet
Werner Zangerle – tenor sax
Villy Paraskevopoulos – piano
Vinicius Cajado – double bass
Mark Holub – drums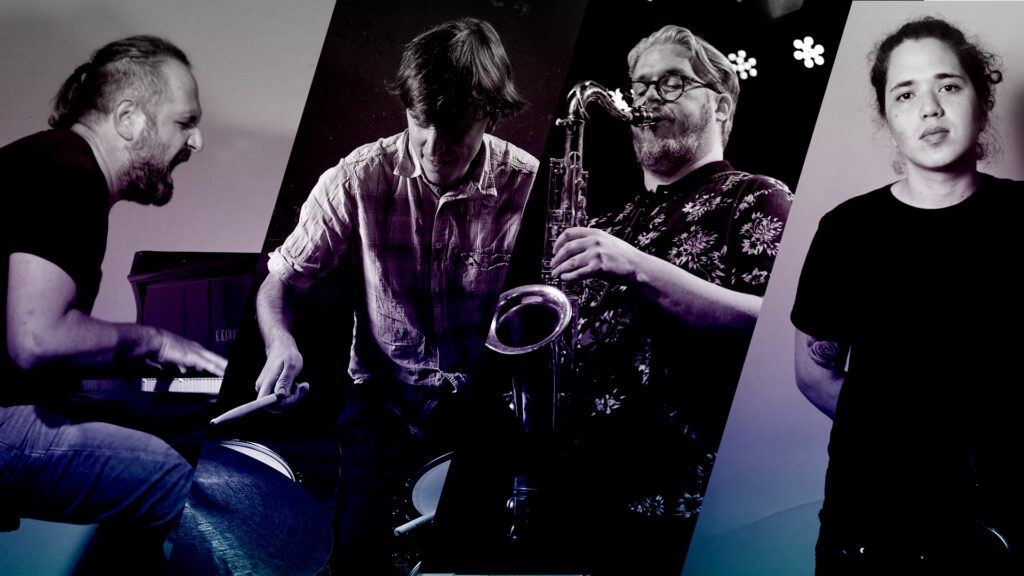 Ad Libitum Quartet
Das international besetzte Ad Libitum Quartet wurde 2021 auf Initiative des Pianisten Villy Paraskevopoulos ins Leben gerufen. Die Musik der Band bewegt sich stilistisch geschickt zwischen europäischer improvisierter Musik und amerikanischem Free Jazz. Ein deutlicher Schwerpunkt liegt auf der freien Improvisation und der gemeinsamen Entwicklung von Bögen und Strukturen.
Werner Zangerle – Saxophon
Werner Zangerle lebt als freischaffender Musiker, Komponist und Pädagoge in Wien. Nach seinem Studium in Linz, das der 2007 mit Auszeichnung abgeschlossen habe, zog er 2009 nach Wien. Während des Studiums verbrachte er zur Erweiterung des künstlerischen Horizonts ein Jahr in Berlin.
Seit mehr als 20 Jahren ist er als Solist aber auch als Ensemblemitglied in Besetzungen vom Duo bis zur Bigband tätig. Stilistisch spannt er einen weiten Bogen: Von Contemporary Jazz (Memplex, Little Rosies Kindergarten, Sweet & Lovely) über frei improvisierte und Neue Musik (singer zangerle, Wenzl Dnatek, Trio ZaVoCC) und Performance bis hin zum Einsatz von Electronics und Effektgeräten fühlt er sich zwischen den Stühlen sehr wohl.
Als Komponist und flexibler Musiker hat er sich mit der Zusammenarbeit mit Schriftstellern wie Felix Mitterer (Der Patriot) und Bodo Hell und bildenden Künstlern wie Götz Bury und Anton Thiel einen Namen gemacht.
Seine Konzerttätigkeit führte ihn ua. in die USA, nach Deutschland, Italien, Belgien, Holland, Lettland und Tschechien. Als Leader und Sideman ist er auf über 20 Tonträgern zu hören.
2012 initiierte er das Plattenlabel Listen Closely.
2013 initiierte er das "hoerthoert – Festival für Zuhörkultur"
2016 erhielt er das Startstipendium des Bundeskanzleramts.
2022 erhielt er das Jahresstipendium für Musik des Landes Salzburg.
Villy Paraskevopoulos – Piano
geboren 1980 in Athen, begann mit zehn Jahren in der Musikschule in Piräus Klavier zu spielen, hat bis 2001 in einer Privatuniversität in Athen Klavier (Klassik und Jazz) studiert, 2001 wurde er auf der Anton-Bruckner-Privatuniversität Linz aufgenommen, dort absolvierte er das Bachelorstudium IGP Jazzklavier, es folgt ein weiteres Studium (Master) auf dem Institut für Popularmusik mit
Schwerpunkt freiimprovisatorischer Musik an der Universität für Musik und darstellende Kunst Wien.
Seine Interessen liegen in Jazzmusik, experimenteller und freiimprovisatorischer Musik, zeitgenössischer Klassik und Avantgarde.
Die Zusammenarbeit in kleineren und größeren Ensembles mit Künstler wie Uli Winter, Fredi Pröll, Alessandro Vicard, Mark Holub, Vinicius Cajado, Werner Zangerle u.a. sind momentan seine Hauptanliegen und zeigen die Leidenschaft des Pianisten für außergewöhnliche Musik.
Teilnahme an diversen Festivals wie Artacts, Kaleidophon, Offene Ohren, Rara Festival etc Discographie:
Hypnotic Zone:Le Justice, les filles et l'eternité', 'Listen closely,' (mit Niki Dolp und Stefan Thaler) Paraskevopoulos/Winter/Pröll:Live at Artacts 2019, ́Creative Sources
Perlin Noise:John Eats Bacon with Francis in the Cage, ́Slam Records' (mit Alessandro Vicard, Irene Kepl, Stephanie Schoisswohl, Mark Holub
Vinicius Cajado – Kontrabass
from São Paulo ,Brasil, his unique approach to the bass led him to win a jazz performance award with additional honors of most creative and unique playing at the International Society of Bassists competition, and in addition his debut solo record for double bass "Monu" was nominated as "Best of the year 2021" by "The New York City Jazz Record" . Vinicius has performed in many festivals and renowned venues including Saalfelden Jazz Festival, Lincoln Center NYC, The Kitchen NYC, Budapest House of Music, Via Funchal Sao Paulo. Jazz and the City Festival Salzburg , 20 Years of Curva Minore Palermo, Vienna Art week and also Theater week, Porgy & Bess Vienna, has been artist in residence in Leopold Museum Vienna and part of Kunstforum's (Seven Rounds with Warhol/Basquiat) exhibition and etc…. And also to perform with artists such as Joelle Leandre (FR), Barre Phillips (US), Mark Dresser (US), Franz Hautzinger (AT), Nicole Glover (US), Lukas Koenig (AT), Martin Siewert (AT), Kenji Herbert (JP), Mauricio Takara (BRA), John Edwards (UK), Golnar Shahyar, (IRAN), Lucio Balduini (ARG), Kenneth Ishak (NOR), among many others from all over the world.
Besides touring and playing around the globe Vinicius is also co-founder of Urchin Records, a platform created to defy easy genre categorization, founded together with the Japanese/Austrian guitar player Kenji Herbert, in New York City
Vinicius's playing, technique, tone and sound is a mixture between lots of different styles, and all of this extended by the immense color palette that is improvised music. The Bassist uses traditional and unconventional techniques, to make the tradition new, and also cut any borders that have been created in modern music in order to make the stage an organic space of interaction..
Mark Holub – Drums
Drummer, composer and bandleader originally from the US and now based in Vienna, he is most notably known as the bandleader and composer for Led Bib.
With Led Bib, he was nominated for the Mercury Music Prize 2009 (One of 12 albums of the year) and he was also a winner of the Peter Whittingham Jazz Award 2005. Led Bib have topped college
radio charts across the US and Canada and have played live across TV and radio in Europe including BBC 2, Channel 4(UK), WDR, BBC Radio 1, BBC Radio 2, ORF(Austria), XFM, Radio 1 (Prague), BBC Radio 3, Radio 6(NL) ,BBC Radio 4 and many more. They have released 8 albums and have toured to some of the highest profile festivals in Europe including North Sea Jazz Festival, Jazzfestival Berlin, London Jazz Festival, Saalfelden Jazz Festival and many others.
Holub is also active in other projects including leading a new band called Anthropods, who are releasing their debut album in January 2022, 'Blueblut' a power trio with Pamelia Kurstin – theremin and Chris Janka – guitar who have toured across Europe, Japan and South America and who's third album was on the 'bestenliste' for the "Preis der Deutschen Schallplattenkritik" , Falb/Holub/Satzinger a free jazz sax trio from Vienna, Perlin Noise, a contemporary classical/improv ensemble led by Sicilian composer and double bassist Alessandro Vicard, and he also features regularly on the improv scene with various collections of players including work with Colin Webster, Irene Kepl and many others.
Alongside all this, Mark works as a composer for dance and theatre doing various commissions for numerous companies. He also has worked extensively as a contemporary dance accompanist working regularly for London Contemporary Dance School and CAT at The Place, London Studio Centre, Impulstanz, Hochschule für Musik und Tanz(Munich) as well as freelancing with various companies including Matthew Bourne's New Adventures, English National Ballet, Michael Clark Company, Rambert Dance Company, and Richard Alston Dance Company.
Recently, Holub has been leading a number of masterclasses and workshops. These have included work with Royal Northern College of Music, The Royal Welsh College of Music and Drama, Kathmandu Jazz Conservatory(British Council), Aldeburgh Young Musicians, South West Music School and many others.