Saturday, 26.08.17
[timed offdate="20170826″]
---
[/timed]
Eintritt frei
26. August 2017 20.00 Uhr
Konzert mit Enrique Mendoza und Ahoo Maher
———————————————————————————————————————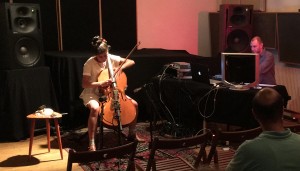 Live concert at amann studios, as part of the Artists-in-Residence program of KulturKontakt Austria.
Location: Amann Studios, Neustiftgasse 68, 7th district of Vienna
Starting time: 8 pm, free admission
Enrique Mendoza
Live performance of Rhetorik for live electronics
—
Ahoo Maher and Enrique Mendoza
duo improvisation cello and live electronics (with some analogue oscillators)
---
Enrique Mendoza
Enrique works closely with performers to break new ground and gain specific insights into the instruments and the performer's personal expression; and he has been developing his electro-acoustic composition using custom software and music technology.
Biography
Enrique Mendoza Mejia studied the Licentiate degree in Compositional Techniques at CIEM Academy, degree endorsed by Trinity College of London. In 2010 he graduated from a Master's in Composition for Film at the Conservatorium van Amsterdam.
In January 2014 he released his first Electroacoustic Music Album "Below Sea Level", edited by Future Music Records in London. In 2016 the Funds for the Performing Arts of the Netherlands, commissioned him with a Bass Saxophone and electronics piece, to be performed by Marijke Schröer.
His music has been performed by Jos Zwaanenburg, Johan van der Linden, Zoom Trio, Melisma Saxophone Quartet, the Mexico City Wind Quintet, Het Trio, Ossia Ensemble, Avlitria Ensemble, Platypus Ensemble, Nagy Boglárka, Mónica Lopez Lau; and it has been performed in diverse forums like IGNM Strommusik in Vienna, 40th International Computer Music Conference, Tromp Percussion Eindhoven, 3rd International Forum for Young Composers Sond'Ar-te Electric Ensemble in Portugal, Amsterdam Blockflute Festival, Manuel Enríquez International New Music Forum, Festival of Contemporary Music of Michoacán, among others. He was winner of the Tribune of Mexican Music 2004 and 2012, the Composition Contest of Michoacán, and the Tribune of Latin America and Caribbean Music 2004 awards. He represented Mexico, in the 51th International Rostrum of Composers held at Unesco in Paris. In 2012, he was selected by the Mexican Music Council to represent Mexico in the 59th TIC, organized by the International Music Council in Stockholm.
The films and Live Cinema shows he has worked on have been screened in more than 15 International Film Festivals. One of the films "Mamuth" was nominated for the Ariel award.
Enrique was born in Mexico City on May 26th of 1978.
http://enriquemendoza.net/biography/
Kultur Kontakt Austria Website
hear his music on soundcloud
Ahoo Maher
Ahoo about her music:
"Ich benutze mein Instrument, um meine momente mit klängen auszusprechen, um stille zu verstehen … und reagiere auf,  oder ignoriere das was um mich herum abläuft."
Short biography
Ahoo Maher,1990 (Tehran)
since 2008 living in Austria . artist / musician / performer.
2002-2008 Tehran Conservatory (cello)
2008-2011 Music Education, cello pedagogy and Multi media in University of Music and Performing Arts Vienna, Prayner Concervatory
Master's degree in Contextuall Painting at the Academy of fine Art Vienna, Prof. Ashley Sheirl.
Member of Morgenland Chamber Orchestra, Derang Duet
Since 2013 Active as a cellist and Performer in the field of free Improvisation Music and participated many ensembles And festivals (Contemporary Musicfestival Tehran, Art UnAnchored Festival Vienna, FRIV festival Poznan…)
Since 2014 collaboration with Christina Ruf as cello duo (among other things give the "Eure projects " -Found).
In the field of fine arts two solo exhibitions, in the public domain, Vienna, and the Dastan Basement Gallery, Tehran and several group exhibitions and performances, among others in VBKÖ, Porgy & Bess, Dschungel and Shirin Art Center.
http://ahoo-maher.tumblr.com