Saturday, 22.09.18
[timed offdate="20180922″]

Concert in cooperation with AIR/Kulturkontakt Austria:
Location: Neustiftgasse 68/ Amann Studios
doors: 8 pm, no admission
Program:
Martin Herraiz
relato de insônia [insomnia report] for violin and electronics (2013) – premiere
Martin Herraiz, live electronics
Alexander Georghiu, violin
Michael Fischer
no effect, analog feedback-saxophone
—
Martin Herraiz/Michael Fischer
Laptop live electronics/ad-hoc soundscaping
video available on Facebook
Details:
On Sep. 22 Martin Herraiz and Michael Fischer will present a joint program of music for instrumental and electronic supports. The first set will feature the European premiere of Herraiz's 2013 work relato de insônia ("insomnia report"), for violin and live electronics, featuring Alexander Georghiu on violin, followed by Mr. Fischer performing a set for saxophone and analog feedback loops. In the second set, Mr. Herraiz and Mr. Fischer will get together for a textural improvisation featuring Mr. Fischer on ad-hoc soundscaping with 3 CD players and Mr. Herraiz on real-time granular synthesis.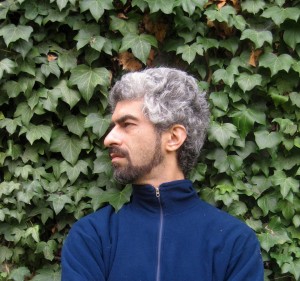 © Martin Herraiz
---
Martin Herraiz
Martin Herraiz is a self-taught composer and improviser from São Paulo, Brazil. As a composer, his works have been performed in twelve countries across Europe and the Americas, awarded a couple of prizes, and released in a handful of CDs on obscure and not-so-obscure labels. As an improviser, his primary instrument of choice is the electric guitar, although on occasion he has been seen conducting as well as performing on melodica, clarinet, piano, FM receiver, and various other accessories and electronic devices. He made his first artistic residency in Vienna in 2014, with support from Ibermúsicas and Ensemble Reconsil, and is currently here for the third time, as a guest of the KulturKontakt Artists-in-Residence program. 
Michael Fischer musician-composer
improvised/experimental music – sound art – noise on the speech-immanence of sounds
since 1999 connecting the electro-acoustic phenomenon feedback
developed the feedback_saxophone
works with tenor saxophone, violin, cd player soundcapings
cross collaborations in literature (focus experimental poetry), dance, performance, installation, video
launched the Vienna Improvisers Orchestra in 2004, since then elaborating an individual hand-sign practice (instant composition conducting, term M.F.)
instant composition conductings for large ensembles, orchestras, choirs, spontaneous gatherings
 http://m.fischer.wuk.at