Thursday, 02.06.16
[timed offdate="20160603″]
---
[/timed]
Start 20:15
Lineup
first set
John Butcher – Saxes
Burkhard Stangl – Guitar
–
second set
John Butcher – Saxes
Angelica Castello – Paetzold Recorder, el. Devices
Noid – Cello
third  set
John Butcher – Saxes
Christof Kurzmann – Electronics [Loopp]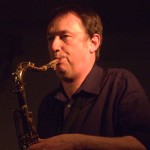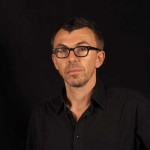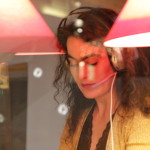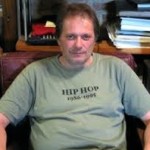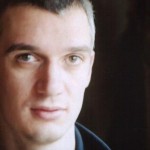 ---
John Butcher – biography
John Butcher's work ranges through improvisation, his own compositions, multitracked pieces and explorations with feedback and extreme acoustics.
Originally a physicist, he left academia in '82, and has since collaborated with hundreds of musicians – Derek Bailey, John Tilbury, John Stevens, The EX, Akio Suzuki, Gerry Hemingway, Polwechsel, Gino Robair, Rhodri Davies, Okkyung Lee, John Edwards, Toshi Nakamura, Paul Lovens, Eddie Prevost, Mark Sanders, Christian Marclay, Otomo Yoshihide, Phil Minton, and Andy Moor – to name a few.
He is well known as a solo performer who attempts to engage with the uniqueness of place. Resonant Spaces is a collection of site-specific performances collected during a tour of unusual locations in Scotland and the Orkney Islands.
His first solo album, Thirteen Friendly Numbers, includes compositions for multitracked saxophones, whilst later solo CDs focus on live performance, composition, amplification and saxophone-controlled feedback.
HCMF has twice commissioned him to compose for his own large ensembles. Other commissions include for Elision (Australia), the Rova (USA) & Quasar (Canada) Saxophone Quartets, reconstructed Futurist Intonarumori (USA), "Tarab Cuts" (based on pre-WWII Arabic recordings, and shortlisted for the 2014 British Composer's Award) and "Good Liquor .." for the London Sinfonietta. In 2011 he received a Paul Hamlyn Foundation Award for Artists.
Recent groupings include The Apophonics with Robair and Edwards, Anemone with Peter Evans, Plume with Tony Buck & Magda Mayas and a trio with Okkyung Lee & Mark Sanders.
Butcher values playing in occasional encounters – ranging from large groups such as Butch Morris' London Skyscraper and the EX Orkestra, to duo concerts with David Toop, Kevin Drumm, Claudia Binder, Paal Nilssen-Love, Thomas Lehn, Fred Frith, Keiji Haino, Ute Kangeisser, Matthew Shipp and Yuji Takahashi.
http://www.johnbutcher.org.uk/Biog.html
Burkhard Stangl wurde 1960 geboren. Er arbeitet im Bereich experimentelle Improvisation, elektronische und Neue Musik. Studium der Ethnologie und Musikwissenschaft (Diss. Ethnologie im Ohr. Die Wirkungsgeschichte des Phonographen). Derzeit Projekte u.a. mit John Butcher, Angélica Castelló, Kai Fagaschinski, Christof Kurzmann (Schnee), Olga Neuwirth, Dieb13 und Billy Roisz (eh), Boris Hauf, Martin Siewert, Steve Heather (efzeg), Christian Fennesz. 2006 Gründung des Ensembles Extended Heritage. Soloarbeiten (Rècital 1, 1996; Récital 2, 2006), Kompositionen u.a. für das Klangforum Wien und Experimentalfilme von Gustav Deutsch (Film ist.7-12, 2002, Welt Spiegel Kino, 2005). Künstlerischer Co-Leiter des Musikvermittlungsprojekts Klangnetze von 1993-2002. Konzerte & Festivals weltweit. Über 50 CD/DVD/BUCH-Veröffentlichungen. Lebt in Wien.
(der Website des Musikprotokoll entnommen)
Angélica Castelló
Recorder player, composer, improviser, sound artist, curator, teacher.
Born in Mexico City in 1972, Castelló studied music in her native town at the Conservatorio Nacional de México, at the Université de Montréal, at the Conservatorium van Amsterdam, at the Konservatorium der Stadt Wien and at the Department of Composition and Electroacoustics at the University of Music and Performing Arts Vienna. Since 1999, she has lived in Vienna, where she is a teacher. In the year 2004, she founded the concert series "Neue Musik in St. Ruprecht", and has organised hundreds of concerts and events.
Even though she remains devoted to old music, new and electroacoustic music take center stage in her work. She co-founded the ensembles Low Frequency Orchestra, frufru (with Maja Osojnik), cilantro (with Billy Roisz), subshrubs (with Katharina Klement, Tamara Wilhelm and Maja Osojnik) and Chesterfield (with Burkhard Stangl) Plenum, Zimt (with Gunter
Schneider, Barbara Romen and Burkhard Stangl) a.o.. She has performed in Europe and America with these ensembles and with other musicians such as, Martin Siewert, John Butcher, Dafne Vicente-Sandoval, Urkuma, Franz Hautzinger, Isabelle Duthoit, dieb13, Jerome Noetinger, Mario de Vega, Attila Faraveli, Kazu Uchihashi, Bonnie Jones, Juanjose Rivas, Steve Bates, Olga Neuwirth, Wolfgang Mitterer and others.
As a composer, she writes for her own instruments (mainly the Paetzold sub great bass recorder, with and without electronics) and for ensembles (amongst them the Danubia Saxophonquartett, Reconsil Ensemble Vienna and the Haydn Piano Trio) as well as Electroacustic Works. Her music has been published by the labels Mosz, Instertellar Records, Orlando Records, einklang_records, Mandorla Label, Mikroton Recordings, Monotype Records and chmafu nocords. Numerous composers, including Hilda Paredes, Daniel de la Cuesta, Katharina Klement,
Burkhard Stangl, Jorge Sánchez-Chiong, and Mario Lavista, have worked with Angélica Castelló or dedicated pieces to her. In recent years, Castelló's work has included installations that operate at the interface of music, performance and visual arts (Electroaltar, Electroaltar for J.C., Electroaltar für C.N., Margarita' Stillleben Theater).
Her debut album, "Bestario", unites the multifaceted nature of Angélica Castelló's work: Recordings of her own instruments serve as the raw material for pieces in which she edits the sounds of her flutes, sometimes beyond recognition, and combines them with frequently deformed fragments of other elements — be they electronically produced or found elsewhere — to a musical entity in which multiple layers overlap. She weaves existing pieces of other composers, such as Bach, into these contemporary forms of electronic processing, thereby referencing her work as an interpreter of old music. Even though her other sources of inspiration, such as from literature or visual arts, often have specific roots, they lead Castelló to an abstract engagement with such topics as death, and dealing with traumatic encounters. Wide-ranging combinations of sounds that are constantly and sometimes simultaneously moving in different directions provide continuity as well as surprises, and when listened to repeatedly, they shed new light on the beasts from literature, the animal kingdom, and daily life that have been set to music.
http://castello.klingt.org
christof kurzmann, born in vienna/austria. musician between electropop, improvisation and "new music". sometimes soloist, he prefers to be part of a collective or a working group. played concerts in all continents except australia. organizer of various events in the music- and media-genre. labelowner of the small independent label "charhizma" – which at the moment only exists as a platform to present musicians from around the world in various live settings. conscient objector of military- and civil-service, he still is politically active and/or interested. he likes to travel, go to the cinemas and concerts, likes to read, even emails.(but he doesn't reply all the time)—bands: the magic i.d., el infierno musical, qmince, made to break, trio carrasco/kaplan/kurzmann, orchester 33 1/3, schnee—musical partners: toto alvarez, nicole bindler, martin brandlmayr, john butcher, eden carrasco, george cremasci, werner dafeldecker, isabelle duthoit, kai fagaschinski, bernhard fleischmann, michaela grill, mats gustafsson, sofia jernberg, margareth kammerer, leonel kaplan, joe mcphee, marina rosenfeld, michael thieke, irena tomažin, ken vandermark, michael zerang.
http://ckurzmann.blogspot.co.at
noid /aka arnold haberl, *1970, living in vienna
composer . performer . improviser | auricular . cello . electronic devices
his musical approach can be described as fundamental research. his works span a wide range of contradictory outcome, from solos to compositions for ensembles, from sound installations to videos. using electronics as well as acoustical instruments. consequently denying the borderline between music and sound-art.
this lead him to collaborations with artists of different fields – choreographers, like joão fiadeiro, colette sadler, akemi takeya, philipp gehmacher, etc… – visual artists as for instance alexander schellow, heike kaltenbrunner, erik hable or andré goncalves.
as an improvisor he performs among others with: klaus filip, taku unami, o.blaat, axel doerner, christian weber, erikM, dieb13, kazuhisa uchihashi, burkhard stangl, yan jun, taku han-noda, carl stone, mattin, etc…
he is programmer for the "ppooll" project: an open source / copyleft / freeware, designed for live – improvisation, composition, interactive installations, etc…
together with klaus fillip (the main programmer) he was invited to present this software at the cycling74 user conference in san francisco april 2009 http://ppooll.klingt.org
he is part of the organizing team for the annual "reheat" interdisciplinary festival [http://reheat.klingt.org], and he was curating soundart exhibitions in the frame of the "konfrontationen nickelsdorf" festival in 2009 and 2010.
__some releases:
noid | taku unami "¬ + : *" [CD – themanual 2009] noid "you're not here" [CD – hibarimusic 2007] noid "ausflug ins gruene" [7″ – klanggalerie 2006], noid "monodigmen" [CD – aRtonal 2004]
http://noid.klingt.org