Tuesday, 19.06.18
[timed offdate="20180619″]
admission: 10.-/8.-
---
[/timed]
Chupakabra
Florian Fennes – Baritone saxophone
Igor Gross – Vibraphone and drums
Alfredo Ovalles – Piano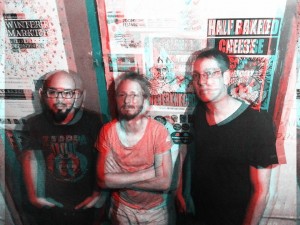 ---
Chupakabra
Florian Fennes
Saxophonist, Klarinettist, Pädagoge
Alle Saxophone und Klarinetten
Studium von IGP Saxophon-Popularmusik bei Klaus Dickbauer und Martin Fuss sowie Schwerpunkt klassische Klarinette bei Rupert Fankhauser an der Universität für Musik und darstellende Kunst in Wien. Beschäftigt sich mit verschiedensten Musikrichtungen. U.a. Mitglied des Saxophonquartettes Phoen, der Cross-Over Band "No Head on my Shoulders", dem Black Page Orchestra, der Swing Band "The Cotton Lickers" und der Contemporary Big Band Nouvelle Cuisine. Intensive Auseinandersetzung mit Electonics, Loops und alternativen Sounds am Saxophon. Mitglied von snim ("spontanes netzwerk für improviserte musik") und vermehrt Beschäftigung mit freier Improvisation und Zeitgenössischer Musik. u.a. Aufführungen von Werken von Matthias Kranebitter und Margareta Ferek-Petric.
Seit 2008 regelmäßig als Theatermusiker tätig (Volkstheater Wien, Burgtheater Wien, NÖ-Landestheater). Unterrichtstätigkeit für Saxophon, Bläserklasse, Musikkunde, Improvisation und Big Band an der Musikschule Sieghartskirchen.
Zusammenarbeit u.a. mit:
Volkstheater Wien, Burgtheater Wien, Landestheater St.Pölten, Volksopernorchester Wien, Raimundtheater Wien, Divertimento Viennese, Wiener Festival Orchester, Vienna Art Orchestra, Nouvelle Couisine, Vienna Jazz Composers Orchestra, Alexander Ehrenreich Big Band, Saxophonquartett Phoen, snim ("spontanes netzwerk für improviserte musik"), Matthias Kranebitter, Margareta Ferek-Petric, Black Page Orchestra, Jose Ritmo, SKI, Jazzwerkstatt Wien, Bah vs. Liii superviced, No Head on my Shoulders, The Cotton Lickers, Wolfgang Schlögl (Sofa Surfers, I-Wolf).
von http://www.florianfennes.at entlehnt
Alfredo Ovalles
…Alfredo is in demand as a soloist and chamber musician internationally. Engagements have taken him to Belarus, Germany, Poland, Romania, Spain, and the Dominican Republic, among others, performing at wonderful venues including the Berliner Philharmonie, the Wiener Konzerthaus, and King's Place in London. He had the pleasure of performing not only solo recitals but also together with orchestras such as the Polish Baltic Philharmonic Orchestra in Gdańsk, the Orchestra of the Academic and Musical Theater of Minsk, Belarus and the National Symphony Orchestra of the Dominican Republic…..
Due to his never-ending desire for musical experimentation, Alfredo devotes a big part of his time working with composers and performing premieres of pieces written for him or in collaboration with groups like Diaspora Duo, Green Thing Ensemble, and The Black Page Orchestra.
http://www.alfredoovalles.com
Igor Gross
Igor Gross hat seinen Werdegang als Schlagwerker im klassischen Bereich begonnen. Während seines Studiums an der Musikuniversität Wien (Konzertfach Schlagwerk) substituierte er in verschiedenen Orchestern und Aufführungsstätten (Wiener Philharmoniker, Wiener Staatsopernorchester, Radio Sinfonie Orchester Wien, Tonkünstler Niederösterreich,…).
Mehr und mehr entwickelte er jedoch seine Vorliebe für neue Musik, elektronische Musik, frei improvisierte Musik und begann eine intensive Zusammenarbeit mit zeitgenössischen KomponistInnen.
Er spielt seither in den wichtigsten Ensembles für Neue Musik wie dem Klangforum, Ensemble Phace, Blackpageorchestra Ensemble 20. Jahrhundert, Ensemble Platypus, u.a. In seine zahlreichen Kollaborationen mit KomponistInnen ist ihm die Umsetzung der musikalischen Ideen auf seinen Instrumenten auf höchstem Niveau ein besonderes Anliegen.
http:// www.igorgross.org/