Donnerstag, 07.01.2010
[timed offdate="2012mmdd"]
---
MIA ZABELKA – electric violin, voice, electronics
FRANZ HAUTZINGER – quartertone trumpet, electronics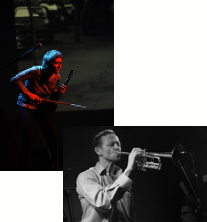 ---
Foto M. Zabelka by Max Moser
Foto F. Hautzinger by Daniel Cemborek
MIA ZABELKA, composer, violinist and vocalist from Vienna, lives in the Austrian region of southern Styria.
Amongst Jon Rose and Malcolm Goldstein she has the international reputation of one of the most innovative freestyle Violin Players of the World. As a musician and performer of improvised, experimental and electro-acoustic music she has developed a unique language based on the de- and reconstruction of the violin's sonic possibilities, expanding the instrument using live electronic effects and innovative performance techniques.
She studied music and composition with Roman Haubenstock-Ramati, Dieter Kaufmann, Kurt Schwertsik and Alexander Arenkov in Vienna, creating a foundation on the basis of which she continues to construct and explore the limits of sound and music in a language entirely her own. The violin, voice and her own body transform into sound bodies which are at once organic and primal, screaming, lyrical, composed and explosive.
Mia Zabelka developed the process she describes aautomatic playing, continuously exploring sound and music as physical phenomena, always pushing back the boundaries in radical and provocative performances and compositions that question established notions and given structures.
FRANZ HAUTZINGER studied at the Jazz department of today's Art University in Graz. After moving to Vienna he started to explore the trumpet in his very own and un-academic way.
The conscious decision to avoid electronic sound sources but to still comprehend the development of digital music on the trumpet – the quarter tone trumpet – were decisive stages for the creation of Franz Hautzinger's solo trumpet CD "Gomberg". Hautzinger positioned himself with "Gomberg" at the front line of the international improvisation avant-garde; collaborations and CD records with Derek Bailey, the "AMM" veterans Keith Rowe and John Tilbury as well as Axel Dörner, Christian Fennesz or Otomo Yoshihide, and Sachiko M followed.
The step into the world of decelerated sound microscopy and on the re-discovery of musical sensualism, the confrontation of his trumpet sounds with groove and tunes (Regenorchester XI and XII) can be considered as important stages in his development.
Franz Hautzinger teaches at the Vienna Music University, is a member of the Berliner Ensemble "Zeitkratzer" and received commissions from Klangforum Vienna amongst others.
http://www.franzhautzinger.com
Both of them present a new until then unheard cosmos of sound that they are continuosly developing on their instruments and have shown that even in times where postmodernism is history an instrument can still be reinvented.
Together they create a lyrical dialogue creating an organic, shifting, moving musical exchange. Zabelka and Hautzinger's performances are based on compositions that leave space for the duo's spontaneous interaction on stage at a given moment, responding to each other and the performance space in a constantly evolving process, playing with silence and sound as related entities rather than opposites.
Their creative process and music is a permanent dance between sounding and remaining silent, movement and inertia, at the threshold between activity and passivity, expression and reception, playing and listening, between their own individual voices and their common sound.