Samstag, 27.02.2010
[timed offdate="2012mmdd"]
---
BEIJA-FLOR
Anne-Marie Jean – vocalist
Niko Leopold – Cello
Martin Schönlieb – Gitarre
Beija-Flor …der "Blumenküsser". Das portugiesische Wort für den Kolibri steht Pate für Jazz-affine Kammermusik. Kompositorische Arbeit und spontane Interaktion prägen gleichermaßen die Musik des Trios. Beija-Flor besteht seit 2007.
http://www.myspace.com/­beijaflormusic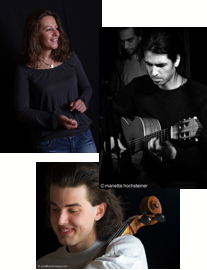 Foto M. Schönlieb © Mariettea Hochsteiner
Foto N. Leopold © juha@venekimppa.com
---
ANNE-MARIE JEAN
Classical piano and classical singing at the Conservatory of Narbonne (F).
Jazz ensemble  in singing, with Serge Lazarevitch,  at the Regional Conservatory of Perpignan.
Royal Conservatory of the Hague (Holland), in order to study  traditional vocal jazz, with  Rachel Gould, Fay Claassen, Deborah Brown.
June 2006 bachelor of Jazz singing Royal Conservatory of Brussels to  study more modern jazz singing , with David Linx, Diederik Wissels, Christophe Wallemme, John Ruocco, Kriss De Voort…
The last year of study has been at the National  Superior Conservatory of Paris in the jazz department  directed by  Riccardo Del Fra, and work with Hervé Sellin, François Théberge, Glenn Ferris, Patrick  Moutal…
June 2007 Final price in jazz singing (master).
http://www.myspace.com/­annemariejean
 
NIKO LEOPOLD
1985 in Wien geboren, interessierte sich schon in fruehen Jahren brennend fuer die Musik. Als klassischer Cellist studierte er an der Universitaet fuer Musik Wien und gewann zahlreiche Preise als Solist und Kammermusiker. 
Sein Talent fuer Klavier entdeckte er waehrend seiner Ausbildung beim Jazzpianisten Reinhard Micko in Wien und entschloss sich, nach seinem Erfolg beim Wiener Jazz Wettbewerb, sich seiner grossen Liebe, dem Jazz zuzuwenden.
Nikolaus legt grossen Wert darauf sich als Pianist, Cellist und Komponist gleichermassen ausdruecken zu koennen.
Seit Herbst 2007 studiert er bei Rob van Bavel und Karel Boehlee am Conservatorium in Amsterdam. 
http://www.myspace.com/­nikoleopold
 
MARTIN SCHÖNLIEB
lebt als freischaffender Musiker in Wien und arbeitet in den Bereichen improvisierte Musik, Jazz und Songwriting.
Leitung des europäischen Jazz-Quartets 'Quadrille', Projekte in Zusammenarbeit mit der aus Korea stammenden Pianistin/Komponistin Young Mi Choi, Co-Initiator des Improvisationstrios 'Derwish', Duo-Konzerte und Cd-Aufnahmen mit Joachim Badenhorst, musikalische Arbeit im Bereich der elektroakustischen Musik mit TARO.