Sonntag, 09.05.2010
[timed offdate="2012mmdd"]
---
Dario Fariello – Alto Sax
Eren Ileri – DJ, Alto Sax Samples
http://www.myspace.com/­dariofariello
http://www.myspace.com/­kolonelbleep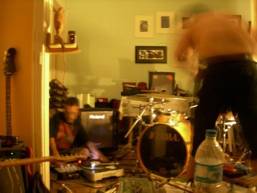 ---
The duo was born in summer 2009 in Istanbul. Eren uses only prerecorded alto saxophone samples, and Dario plays with/on/under it in real-time.
Touching the vinyl controller the tone becomes scratch, leaving we are back to the sax, but in a different part of the composition! So the DJ plays rimtically with this switch possibility: scratch and re-composition, superimposing voices.
After some concerts and some private sessions the "sound bank" evolved: they went back to the studio and recorded more material: long sounds made for scratching, wind sections, static soundscapes and multi-layer compositions.