Samstag, 15.05.2010
[timed offdate="2012mmdd"]
---
Goh Lee Kwang – Mixer Feedback
Throatmusic – Helge Hinteregger
http://www.gohleekwang.tk
http://www.throatmusic.at/­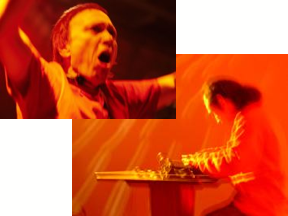 ---
GOH LEE KWANG is probably one of the most exciting Malaysia sound / new media artists in the scene.
He has travelled around the world creating sound installations, sonic-visual interactive installation, single / multichannel video, appeared in electro-acoustic improvised music performances as well as worked on radio broadcasts and soundtracks for theater / dance / indie films.
His work has been showcased at festival, galleries and privates spaces in Europe & Asia.
GOH LEE KWANG (family name Goh) is an internationally recognized sound artist.
Goh's works focus on the various possibilities of both natural sound and recorded sound, crossing the boundaries of digital and analog, electronic and acoustic, go beyond language, allowing audiences to experience the work directly, and in their own personal way.
THROATMUSIC wurde von Helge Hinteregger 2009 gestartet.
Hinteregger benutzt seinen Kehlkopf zur Erzeugung von Geräuschen und Klicklauten. Über ein selbst entwickeltes Mikrofon, das außen am Kehlkopf montiert ist werden die Geräusche abgenommen. Das Signal wird anschließend über digitale Touchpads live bearbeitet. Der Rachenraum dient als zusätzlicher Resonanzkörper. Es werden keine vorbereiteten Sounds oder Samples verwendet.
"Erfreulich bizarre Soundwelten." (der Standard)
"Hinteregger geht sozusagen dem Gesang an die Gurgel und lukriert aus dem unteren Stimmbandbereich ganz erstaunliches, elektronisch entfremdetes Gebrüll." (freistil)
"Intergalaktische Sphären, No-Wave-unterminiert." (skug)
"Überwältigt mit nichts weniger als dem rasendsten und expressivsten Freecore-Freakout, den es derzeit zu kriegen gibt." (FM4 Im Sumpf)
GOH LEE KWANG in concert in cities such as Manila, Singapore, Kuala Lumpur, New Delhi in Asia, and Dublin, London, Paris, Berlin, Vienna, Stockholm, Zürich and Budapest in Europe. 

His first one-person exhibition "Sound, Video, Visual, Media and Installation" shown in 2 venues: National Art
Gallery, Kuala Lumpur and R.A.P. (Rumah Air Panas) in Kuala Lumpur, Malaysia 2005;
and his second one-person exhibition "Good Vibrations"
shown in 4 venues, REKA Art Space, Subang Jaya and Annexe Gallery, Kuala Lumpur, Malaysia 2007; Fluctuating Images, Stuttgart and Künstlerhäuser Worpswede, Worpswede, Germany 2008.

Goh's works has been participated in festivals such as Jazz en Nord, Lille, France 2004;
Klangraum Festival, Kunstraum Stuttgart, Germany 2004;
Film Winter, Media Im Raum, Württembergischen Kunstverein, Stuttgart, Germany 2005;
Ver Uit De Maat, Rotterdam, The Netherlands 2005;
D.I.Y. stDSPS, Rotterdam, The Netherlands 2005;
Street Roar, Kuala Lumpur, Malaysia;
New West Electronic Arts & Music Festival, Berlin, Germany 2007;
Festival de Musiques Innovatrices, Saint-Etienne, France 2007;
Not That Balai, Kuala Lumpur, Malaysia 2007;
Let Arts Move You, Kuala Lumpur, Malaysia 2007; Choppa Festival, Singapore 2008;
Ton-Raum-Licht, Künstlertage Hermannshof, Germany 2008
and Simultan Festival, Timisoara, Romania 2008.

Goh is the recipient of numerous awards and honors, including the Akademie Schloss Solitude Fellowship, Stuttgart, Germany in 2004-2005, Klangraum Fellowship, Krems, Austria in 2006 and Künstlerhäuser Worpswede Fellowship 2008.

Other short term Artist-In-Residency programs including KHOJ, New Delhi, India 2006;
STEIM, Amsterdam, The Netherlands 2007;
WORM, Rotterdam, The Netherlands 2007;
Green Papaya, Manila, Philipines 2007-2008.

Goh have produced soundtrack for theater director, movie director, and chorographer from Malaysia, Singapore, Sweden, Germany, Brazil, Korea, Japan, Sri Langka and Bulgaria.
Goh is also the artistic director and managing director of the music label Herbal International, and one of the founders of Experimental Artists Co-op Malaysia (EMACM). Herbal International is the leading experimental music label from Malaysia, release works from composers, musicians sound artists all over the world;
EMACM is a collaborative project dedicated to the facilitation, publication and exposure of creative and experimental works from the region.