Donnerstag, 10.06.2010
[timed offdate="2012mmdd"]
---
GOLDEN FUR
Samuel Dunscombe – Laptop
Judith Hamann – Cello
James Rushford – Viola
http://www.goldenfur.com.au
http://www.myspace.com/­goldenfur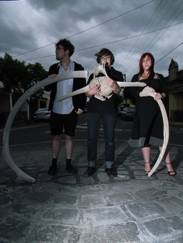 ---
GOLDEN FUR is a trio comprising Samuel Dunscombe (clarinet/laptop) Judith Hamann (violoncello) and James Rushford (keyboard/viola), with an ongoing and dedicated interest in classical, experimental and improvised music.
GOLDEN FUR has quickly made a name for itself as a vibrant new ensemble that fearlessly crosses musical boundaries to create compelling and complex, yet inclusive, performance experiences.
The trio recently completed their 2008/2009 debut concert series, commissioning and premiering works by Australian composers Anthony Pateras, Marco Fusinato, Alexander Garsden and Kate Neal. The series also featured world premieres of works by Jaap Blonk and Phill, as well as Australian premieres of works by Klaus Lang, Thomas Meadowcroft, Sam Hayden, Alvin Lucier and Jani Christou.
In 2010, they will give Australian premieres of works by Iancu Dumitrescu, and Ana-Maria Avram, and world premieres of works by Cat Hope, David Chisholm, Robert Ashley and Natasha Anderson.  
Their improvised performances with strings and MaxMSP live-signal processing, embrace a surprising fluidity of languages, drawn as much from the contemporary classical, as from the experimental, concrète and avant-garde musical realms.  
GOLDEN FUR has collaborated with performers such as Anthony Pateras, Deb Kayser (Elision), Erkki Veltheim (Australian Chamber Orchestra, Elision), Scott Tinkler (Australian Art Orchestra) and Thembi Soddell.  Its members have previously performed for the Melbourne International Arts Festival (2006, 2007, 2008), Chamber Music Australia, Melbourne International Film Festival (a collaboration with David Shea), New Music Network (Sydney), The Melbourne International Biennale of Exploratory Music, and the What Is Music? Festival.  Golden Fur has also performed and recorded works by Helmut Lachenmann, Sofia Gubaidulina, Morton Feldman, Luciano Berio, Giacinto Scelsi, Liza Lim, Olivier Messiaen, Anestis Logothetis, Salvatore Sciarrino, Iannis Xenakis, to name but a few.