Samstag, 26.06.2010
[timed offdate="2012mmdd"]
---
NIEN – Axel Haller, Josh Tröndle
TROBOLLOWITSCH/SCHWEIGHART
HAMMER/HAUTZINGER/SCHNEIDEWIND
RASH – Meaghan Burke, Bernd Klug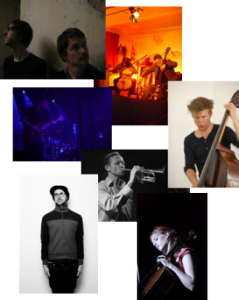 ---
INIEN
Axel Haller – Bass
Josh Tröndle – Cello
Das Duo 'inien' besteht aus Axel Haller (Berlin, E-Bass) und Johannes Tröndle (Wien, Cello). Beide Saiteninstrumente werden ausschließlich gestrichen. Gleichermaßen konzentriert wie verspielt werden elektrische und akustische Klänge miteinander verschmolzen. Den Stücken gemeinsam ist dabei eine Ästhetik, die sich an den Geräuschen und Zwischentönen orientiert. 
http://www.myspace.com/­inienmusic
TROBOLLOWITSCH/SCHWEIGHART
Andreas Trobollowitsch – Lautsprecher, Tapes, Bass
David Schweighart – Schlagzeug
http://www.myspace.com/­noerznoerz
http://www.myspace.com/­essenlassen
HAMMER/HAUTZINGER/SCHNEIDEWIND
Bernhard Hammer – Gitarre
Franz Hautzinger – Trompete
Jakob Schneidewind – Bass
Abstract electronic music.
Debut des Trios
Klanglandschaften in denen tonskulpturen tanzen und ihre formen langsam
verändern.
Pulsierende Flächen runden die melangieren Impulse in seidenrosener Watte. 
electric guitar-electric trumpet-electric bass
http://www.franzhautzinger.com/­
http://www.myspace.com/­elektroguzzi
RASH
Meaghan Burke – Cello
Bernd Klug – Doublebass
RASH is the outbreak of two musicians who think long and hard about sound and then let their guts take over. Inspired by Morton Feldman and Wien's Allgemeines Krankenhaus, Meaghan Burke (cello) and Bernd Klug (double bass) build a sound narrative of frank musical communication and brimming energy, with grooves that continually attack themselves. Violent, yet friendly, RASH stutters, struggles, shrieks, sighs, snuggles, sizzles, sings.
http://www.myspace.com/­meaghanburke
http://www.myspace.com/­beklug