Sunday, 13.02.2011
[timed offdate="20110213″]
djane teutonia feat Dr. Didi Bruckmayr: Der mordtraurige Max
Dr. Didi BRUCKMAYR – vocals
Casper G ZEHNER aka djane teutonia – konzeption, lyrics, laptop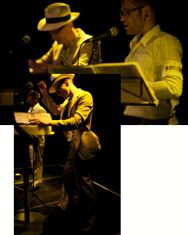 ---
Ein Programm aus, provokativ gemeint, "nazi-schwulen" Larmoyanz-Barden-Songs, nach Motiven aus Jonathan Littells Roman "Die Wohlgesinnten", Jean Genetschen Textfragmenten aus dem "Totenfest" und einem Gespräch Genets mit Hubert Fichte.
Jonathan Littell hat mit diesem "Skandalroman" laut Claude Lanzmann die Sprache der Täter erfunden, während Jean Genet sich mit seiner erotisch-poetischen Gewaltverherrlichung und völkischer Folklore zum geistigen Nazi-Kollaborateur gemacht habe.
"Der "kultivierte" SS-Offizier Dr.Max Aue aka Dr.Didi Bruckmayr erzählt in seinen larmoyanz-bardigen Songs von seinem Leiden am Martyrium, für und im Namen der deutschen, österreichischen und so manch anderer Volksgemeinschaft morden, respektive morden lassen, zu dürfen. Wenn das schwierige Amt es zulässt – und das geschieht selten genug – widmet er sich in den wohl verdienten Pausen geilem Sex unter Männern".
Das vertonende Klangmaterial ist dominiert von Gustav-Mahler-Samples, über den Adorno meinte, er habe "Pogrom-Musik" geschrieben: in dem Sinne, dass seine Musik die kommende Katastrophe antizipiert habe. Mit seiner fragmentierenden Musik zwischen "unbotmäßiger Zartheit", fröhlicher Hysterie, unendlicher Melancholie und einem mehr oder weniger eingelöstem Gewaltversprechen, dass das Sexuelle wie den Tod affirmiert, ist Mahler-Musik auch Schwuchtel-Musik par excellence.
A TIB O' THE NIP to Gerhard Scheit
djane teutonia is the gay subdivison of Richard Wagner making love with Teddy Adorno.