Saturday, 26.02.11
[timed offdate="20110226″]
Susanna GARTMAYER – Bassklarinetten
Hannes LINGENS – snare drum, Objekte
Peter KUTIN – Elektronik, Objekte
—
Michael FISCHER – feedback saxophone
Margaret UNKNOWN – guitar, twister guitar
Jonas BARSTEN JOHNSEN – drums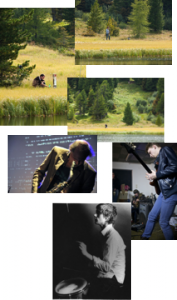 ---
Hannes LINGENS, Peter KUTIN und Susanna GARTMAYER haben sich von einem Bergsee hinab ins Tal begeben um in Wien Schall aufzuwirbeln und Alltonstaub wegzuwischen. Akustische Spannungsfelder durch Surren, Wind und Trommelresonanz.
http://www.hanneslingens.de
http://www.umlautrecords.com
http://kutin.klingt.org
http://gartmayer.klingt.org
——–
Margaret UNKNOWN, a young artist of the Viennese improvisation scene. Working with the fields of jazz, noise and non-idiomatic improvisation.
Jonas BARSTEN JOHNSEN (22) does drums and electronics, contributes widely to the Norwegian impro-scene and has a bachelor degree in performing arts and live electronics. Now exclusively in Austria!!
A malstroem of saxophone, guitar
and drums melting in feedback.
Crushed waves of sonic annihilation
transcending to absurd harmonics
in a tide of pure energy;
http://m.fischer.wuk.at
http://www.myspace.com/margaretunknown
http://www.myspace.com/jonasjohnsen