Wednesday, 05.10.11
[timed offdate="20111005″]
Naoaki MIYAMOTO – guitar
—

Toshimaru NAKAMURA – no-input mixing board
Andrea NEUMANN – Inside Piano
Ivan PALACKÝ – amplified knitting machine
Klaus FILIP – ppooll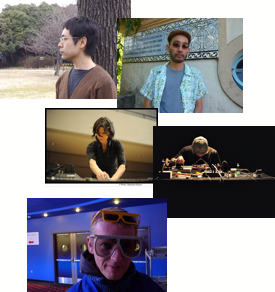 ---
Guitarist NAOAKI MIYAMOTO was born in Tokyo in 1976. He started performing in 1997, and in 2003 launched his own label, Marrakech Recordings (which has released 2 CDs to date).
Since 2002, Miyamoto has also been performing in other countries including France and Germany.
His music is made up entirely of electric guitar feedback. Its extremely fine particles of sound directly stimulate listeners' bodies and eardrums and can even cause something like vertigo.
http://www.ftarri.com/hitorri/999/index.html
TOSHIMARU NAKAMURA has been producing electronic music on self-named "no-input mixing board." The name describes the method of his music. "No" external sound source is connected to "inputs" of the "mixing board"
He has been perforrming live concerts in Tokyo, mostly working with improvisers from the hometown and different places. He has travelled around Europe, the USA, Argentina, New Zealand and Australia since the middle of 1990's until now, for meeting, working and playing concerts with other musicians.
http://www.japanimprov.com/tnakamura/
ANDREA NEUMANN
Piano, Inside Piano, Composition
Born 1968 in Freiburg, Studied classical piano at the Hochschule der Künste, Berlin. Has been active primarily as musician and composer in the fields of new music and experimental music since 1994. Has co-organized "Labor Sonor," a series for experimental music, film and performance in Berlin since 2000.
Her exploration of the piano for new sound possibilities has led her to reduce the instrument to its strings, its resonance board and the cast-iron frame. Playing this unmounted 'leftover' of a piano, with the help of electronics to amplify and manipulate the sound, she has developed several of her own playing techniques, sounds, and ways for preparing the instrument. For reasons of weight, a lighter special instrument was crafted in 2000 according to the measurements of the original heavier inside piano (piano builder, Bernd Bittmann, Berlin).
Commissioned compositions for Deutschlandfunk, Wittener Tagen für Neue Kammermusik, MDR Leipzig, EMS Stockholm, Nyy Musikk Oslo
Concert and festival performances in Europa, USA, Kanada, Argentinien, Russland, Australien and Japan
In 2008 she was a fellow in the Villa Aurora in Los Angeles
In 2008 she got an honorary mention by the Prix Ars Electronika for "Videobrücke Berlin" Stockholm, a collaboration with Sabine Ercklentz
2011 coeditor (together with B.Beins, C. Kesten, G. Nauck) of 'echtzeitmusik berlin selbstbestimmung einer szene' published at wolke-verlag
http://www.ausland-berlin.de/andrea-neumann
IVAN PALACKÝ (*1967)
amplified knitting machine Dopleta 180
Ivan Palacký is a musician and architect. In the 1980s and at the beginning of the 1990s, Palacky played with various groups and took part in several music projects. At the end of the 1990s he founded the guitar/double bass/bassoon group Slede, zive slede (Herring, live herring) and since 2003 he has performed in an audiovisual duo called Koberce, zaclony/Carpets, Curtains (with VJ Vera Lukasova).
He "writes" a sound diary of his journeys collecting excerpts of stories, weird sounds and various acoustic mistakes.
Since 2005 his main interest has been to dig out sounds from an amplified 1970s Dopleta knitting machine.
Published in 2006 at the Danish-American label Errant Bodies, which focuses on contemporary experimental music and its overlapping into art, the DVD-Video Carpets Curtains documents Palacky's long collaboration with the video artist Filip Cenek.
In 2009 Palacky founded the label "Uceroz" and since then he has released two studio albums recorded with his favorite collaborators.
He lives in Brno, Czech republic.
"…a kind of intuitive "chopping the time" is characteristic for my playing, I think, and also a tendency to reach a piont when my understanding of how the the whole thing works blurs and I accept it instead of trying to get back before this point. I don´t care about the means of achieving this condition, which is also significant. The need to follow the tectonics of playing originates in my profession, architecture: desire for proportions and relationships among individual parts including the most difficult feature: "return points",  subconsciously but precisesly placed, at which the whole mostly impalpably flowing sound situation changes and evolves… "
excerpt from "His voice" (www.hisvoice.cz) interview 2005
http://www.palacky.org/
KLAUS FILIP  (*1963)
computer music, programming, composition
Klaus Filip is a performer/composer/programmer and is maybe the first viennese musician, who used the laptop on stage at around 1993.
The main focus of his current work is sinewaves, whose subtle and adducent sounds are used in a wide dynamic range depending on the project; that could be a noisy set with Chulki Hong or playing at the odor detection threshold with Radu Malfatti.
Klaus Filip runs a software project called ppooll (formerly known as lloopp) that is a networking collection of a variety of modules. This freeware is widely used by improvising musicians all over the world.
Teaching position at the university of applied arts, vienna.
Steady dispute with the computer as a musical instrument.
http://klingt.org/filipino/cv.html
http://ppooll.klingt.org/index.php/Main_Page