Saturday, 17.12.12
[timed offdate="20111217″]
20:00
MONOTYPE RECORDS presents:
NEUROBOT GRAND ORCHESTRA
Dominik KOWALCZYK – laptop, electronics
Jakub MIKOŁAJCZYK – modular synthesizer, electronics, guitar
Maciek SIENKIEWICZ – turntable, laptop
Jacek STANISZEWSKI – laptop, turntable
Andrzej ZAŁĘSKI – drums
—
MIA ZABELKA Projekt M
Mia ZABELKA – e-violin, voice, electronics, contact microphones
Mia MAKELA – visuals
—
Alfredo Costa MONTEIRO – laptop, electronics
—
Tomek MIRT – modular synthesizer
T.E.R. – modular synthesizer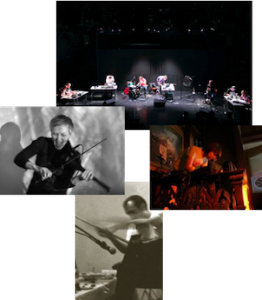 ---
MONOTYPE RECORDS is an independent label founded in Warsaw, in 2004. Stylistically, it focuses on the musical avant-garde, from noise, drone, musique concrete and electro-acoustic to minimal music, free jazz, or EAI. At present, it is one of the most active experimental European music labels. Its catalogue includes over 40 items (CDs, vinyl records, DVDs). Since 2009, MonotypeRec. publishes its own magazine (Irregularly) – "mi ". So far, we have organized several tours (also in cooperation with the Adam Mickiewicz Institute – Polish-German Year), and the artists grouped around the label are considered the leading creators of independent, avant-garde art. We cooperate with a range of media on a regular basis. Our records are reviewed and presented in newspapers and magazines such as Dziennik, Newsweek Polska, Gazeta Wyborcza, Machina, Polityka, Playboy in Poland and abroad in Wire, Sound Projector, The Bug, His Voice, Auf Abwegen, Rock'a 'Rolla, Pitchfork, radio stations (BBC, Radio France, RAI, Czech Radio, WFMU, Polish Radio Programme 2, Polish Radio Programme 3, Radio BIS, Roxy FM) and television (TVP Kultura). MonotypeRec records are available through official sales channels, both in Poland and abroad.
http://monotyperecords.com/
NEUROBOT GRAND ORCHESTRA
shrink – regroup – expand
The idea of Neurobot as meeting nexus-unstable particle that mutates according to needs and possibilities goes back to late 90s when its founders Dominik Kowalczyk and Jacek Staniszewski got invitited as participants in an multimedia festival and come up with an idea for specific "action". With their backgrounds in mail art, independent zine publishing, experimental music and strategical mindfuckery, they started an early Net-zine (meeting point for unorthodox content on art, philosophy, technology – and beyond) that in time evolved to an improvising electronics trio (with addition of Artur Kozdrowski) that performed both in gallery/concert venue settings and in public spaces (forest, heating compartment within the bridge structure).
Besides Neurobot and its sub-group Polycephal operated a pioneering conceptual record labels, releasing a stretch of (now sought after) handmade CD-Rs featuring members of Neurobot (as a group and solo material), and some innovative friends and partners from within Polish freeform electronics scene (Robert Piotrowicz, Mem XV Parówek, Zenial).
Late in 2010, after a couple of years of Neurobot being put on a hiatus, Monotype Records released Pętla Bohumina CD which summed up group's last January 2001 session with Maciek Sienkiewicz (currently operating under Yacht Rock Disco nom de plume, also older brother of avant techno wizard Jacek Sienkiewicz). Record has been very well received by an international community of experimental music fans and critics, notably by Ed Pinsent of Sound Projector, Metamkine, and Revue & Corrigée.
Then the idea of trying out Neurobot as a loose grouping of various friends, collaborators and assorted members of family came through – to organize a loose "orchestra" that could always evolve, change its structure, fluctuate from a 9-piece to a duo or divide into trios or incorporate new members/elements, mix acoustic percussion with circuit bending, vinyl abuse and laptop- based improvisation, extended techniques with pure idiocy, risk with control.
It materialized in May at the new venue of Centre For Contemporary Arts Ujazdowski Castle/Laboratorium in Warsaw for 200+ audience. The closed sessions which followed are about to be released in the forthcoming Neurobot Grand Orchestra series.
It IS expanding. And it will continue to expand.
MIA ZABELKA Project M
Mia Zabelka's new solo "project m" focuses on the development of experimental improvisational techniques with the voice and violin, a process she calls "automatic playing". She explores the relationships between the body, gesture, sound, machines and space using also live electronics to expand the electro-acoustic sonic spectrum. She creates musical imageries in an ongoing process of experimentation and physical immediacy resulting in a melodic complexity and simultaneous transparency characteristic of her sound language.
Mia Zabelka works with the sound on and of her own body using small contact microphones applied to her skin and hair, and also incorporates sounds from inside the body, which she records using medical equipment and transforms into electro-acoustic compositions. She combines these elements of body sound in her live performances with her improvisations on violin and with her voice.
The Goal of the Visualization by Mia Makela is to create a synaesthetic experience a truly audivisual performance,  a visual system which responds to the audio data of Zabelkas music. The software will mostly generate the visuals according to midi notes and sound and modify still pictures or videos in realtime. The end result is a coherent visual experience in which the audio moves the visuals simultaneously while it is played and the visuals can also feed back to the audio. Zabelka can thus create an audiovisual performance just by playing the violin and other instruments. Zabelka will be able to switch from one visual module to another by using pedals or other midi controls.
The programmation environment is MAX/MSP/JITTER. Mia Makela will design the visual themes that go with each song of Zabelkas newly published record "M". The style of the visuals have an animated quality, they are mostly abstract, but have depth and complexity, and endless variety.
http://www.miazabelka.com/
http://www.miamakela.net/
http://www.solu.org
ALFREDO COSTA MONTEIRO
1964 Porto (Portugal), Lives and works in Barcelona, Spain.
He plays accordion, electric guitar, turntable, electro-acoustic devices and resonant objects. He studied sculpture/multimedia at the fine art school in Paris with Christian Boltanski. In 1992, he moved to Barcelona. Since then, his work stands somewhere between visual arts, visual poetry and sound. His installations and sound pieces, all of a low-fi character, have in common an interest for unstable processes, where the manipulation of objects as instruments or instruments as objects has a strong phenomenological aspect. Part of the Duo Cremaster.
http://www.costamonteiro.net/
TOMEK MIRT
Musician and graphic designer, since 1996 playing solo and in collaborations. He started with One Inch of Shadow now known as Brasil and the Gallowbrothers Band. Improvised songs of the band blend psychedelia, post rock, new wave and experimental ambient. Brasil released five albums in Poland (catsun, Nefryt, MonotypeRec.) and USA (Last Visible Dog) and is present on many compilations over the world. Since 2001 Mirt also released five solo albums (last one is Handmade Man from 2010) and performed live with various artists (T.E.R., Tomasz Gadomski, Hati, Wolfram, Black Forest/Black Sea). He prefers analog electronic, prepared trumpet and guitar as well as field recordings and various acoustic instruments. His solo works are close to ambient but with lo-fi nerve. It is always silent, balancing between hazy repetitive loops and shreds of melodies, found sound and all kinds of sonic dirt.  All of Mirt's recordings are made on analog tape with no use of computers. It prevents endless editing, requires more concentration and let his music stay alive with all small imperfections. He works for Monotype Records and Bocian labels and MI magazine. He runs catsun records dedicated to psychedelia, ambient and avantfolk.
http://monotyperecords.com/mi/