Saturday, 11.02.12
[timed offdate="20120212″]
---
[/timed]
BRAVURA IN THE FACE OF GRIEF & MARGARET UNKNOWN
Danielle DAHL (NO/DK) – saxophones
Anders VESTERGAARD (DK) – drums
Margaret UNKNOWN (AT) – guitar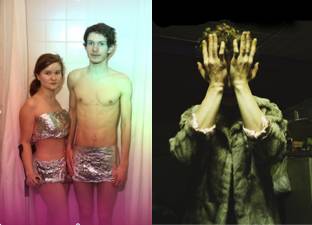 ---
BRAVURA IN THE FACE OF GRIEF performs in different coallisions with different instrumentation, but resolves around drummer ANDERS VESTERGAARD and saxophonist DANIELLE DAHL. They play improvised accoustic music, experimenting with timbres and playing with conventional intstrumental roles. Sonically they move in a quiet, melancholy soundscape, but with room for melodic elements and loud bursts of energy.
DANIELLE DAHL
Norwegian saxophone player and composer living in Denmark. She has toured Europe, Australia and the US, both with her own projects and in different ad hoc-coallisions. Danielle is interested in the extremes of sonic variations possible on the acoustic saxophone, combining subtle and minimal means of expression with the aesthetics of noise and freejazz.
ANDERS VESTERGAARD
Exploration of sound and texture is central in the way Anders approaches the drums, no matter if he's playing silent impro, indie rock or modern free jazz. He always works with an intense focus and a clear direction in his playing, and he has an energetic presence in the music.
http://soundcloud.com/anders-danielle
http://klingt.org/unknown

http://vimeo.com/maruno