ZUM LETZTEN MAL!
FOR THE LAST TIME!
Montag, 08.07.2013
---
1.
Christof KURZMANN
Ken VANDERMARK – reeds
2. TALSOUNDS / STEFFI NEUHUBER
Natalie CHAMI – synthesizers, pedals, voice
Steffi NEUHUBER –  paetzold, pedals
3.
Christine SCHÖRKHUBER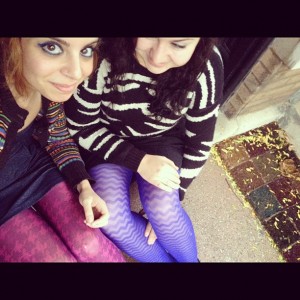 ---
TALSOUNDS / STEFFI NEUHUBER
Natalie Chami and Steffi Neuhuber met 2012 in Chicago and started playing together. Co-founder of Screaming Claws.
TALsounds is Canada-born, Chicago-based experimental musician Natalie Chami. In her solo performances, vocal loops and drifting tones of analog synths swell and accumulate across long sessions of drone. As part of duo l'éternèbre, or in collaboration with Chicago experimentalist Passerby, TAL's sounds collude with glacial electronics and processed strings. In trio Good Willsmith, TAL's arsenal of synths, oscillators and electronics collides with massive bass and looped guitar noise.  When she's not droning, TAL teaches music at Chicago High School for the Arts and in her private studio. 
Steffi Neuhuber is a recorder player and focuses on experimental music, performance, film/media, and interdisciplinary work.
She is also a member of the bands Black Biuti, Plenum, the performance collective OutSight as well as the music collectives SNIM and Screaming Claws.
www.talsounds.com
neuhuber.klingt.org
[soundcloud url="https://api.soundcloud.com/tracks/132846224" params="auto_play=false&hide_related=false&show_comments=true&show_user=true&show_reposts=false&visual=true" width="100%" height="450″ iframe="true" /]
C. CANNED FIT
Controlled coalition of the unpredictable. Circuits of simultanitiy. Canned Noises, tinned tunes and melodic distorsions. The sound artist Christine Schoerkhuber works with a fragile yet powerfull setup consisting of self-built electronic analog interfaces, sonorous everyday commodities and her voice. The performance is trembling between subtle crunchy sounds, song fragments, noise-fields and penetrating drones.