Wednesday, 27.05.15
[timed offdate="20150527″]
---
[/timed]
MIAU
Mia Zabelka – violin
Audrey Lauro – alto sax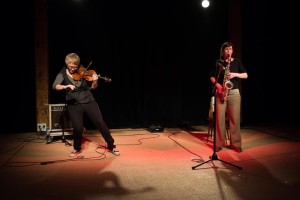 ---
MIAU
MIA ZABELKA
Short Bio
Mia Zabelka, sound artist, violinist and vocalist from Vienna, with czech, jewish and french familiar background, lives in the Austrian region of southern Styria.
As an experimental musician and improviser she has developed a unique language based on the de- and reconstruction of the violin's sonic possibilities, expanding the instrument using live electronic devices and innovative performance techniques.
She studied music and composition at the University of Music and Performing Arts and the Conservatory of Music in Vienna, creating a foundation on the basis of which she continues to construct and explore the limits of sound and music in a language entirely her own. The violin, voice and her own body transform into sound bodies which are at once organic and primal, screaming, lyrical, composed and explosive.
Collaborations with various international artists including John Zorn, David Moss, Fred Frith, Alvin Curran, Pauline Oliveros, Franz Hautzinger, Martin Siewert, Phil Minton, Shelley Hirsch, Peter Kowald, Eliot Sharp, Francis Marie Uitti, Cremaster, Dälek and Lydia Lunch, among others.
In 2007 Mia Zabelka founded the Klang.Haus, a centre for sound and interdisciplinary art at her house in southern Styria. The klang.haus is a meeting point for international and local artists and hosts the Klang.Zeit festival four times a year.
Since 2009 Mia Zabelka is the artistic director of phonofemme Vienna, an international Festival of female Improvised electronic Music and Sound Art.
Mia Zabelka is currently collaborating in Duos with Lydia Lunch, Audrey Lauro, Micromelancolie, Philippe Petit and Zahra Mani, with Video Artist Mia Makela and in Trios with Meinread Kneer and Andreas Willers, Mia Zabelka Trio feat. Pavel Fajt/ Johannes Frisch and Trio Blurb feat. John Russell/Maggie Nicols.
Audrey Lauro
First playing in jazz and then contemporary music following musical composition studies and gaining a Slavic philology master, Audrey Lauro has spent the last decade developing her music on the experimental Belgian music scene. As an alto sax player, focusing mostly on free improvised music she works deeply in the language of the instrument. "From the phrase to the sound event through all kinds of atoms and particles".
In 2012 she curates the festival Wolves Stories, dedicated to the female improv scene. She invites to join the "wolves" Maggie Nicols (UK), Mia Zabelka (AU) and 8 other female musicians to create a portrait of women through music, text, films and experiment. In 2013 she invites Stine Janvin Nortland (NO) to perform with the wolves' collective.
http://www.audreylauro.com
MIAU on tour
MIa Zabelka / violin – AUdrey Lauro / alto saxophone
25 May @Ring Ring Festival
http://ringring.rs/ring-ring-festival-2015/
27 May @ Studio Amann Studio / Vienna
28 May @ Improvisations / Goteborg
30 May @ Hy ! Festival / Copenhagen
https://www.facebook.com/pages/HY-festival/157953957684730?fref=ts
31 May @ Fylkingen / Stockholm
http://www.fylkingen.se/program