Samstag, 16.01.2010
[timed offdate="2012mmdd"]
---
Korhan Erel – electronic devices
Michael Fischer – Saxophon, Violine

Das Konzert wird ein erstes Zusammentreffen von Korhan Erel und Michael Fischer sein.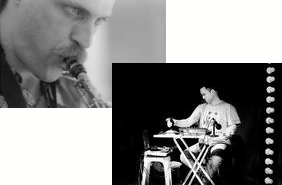 Foto M.Fischer © Ramin Massomoubadi
---
KORHAN EREL, Turkish composer / improvisor based in Istanbul. 
He is a founding member of Islak Kopek, Turkey's pioneer free improvisation group and Elektronik Kumpanya, a project that fuses Turkish Classical Music and electronics. His compositions have been played in radios and festivals in Turkey, Austria, Australia, Holland and Germany. He has performed solo and parts of groups in Turkey, Austria and Holland. 
Korhan Erel plays laptop running LiSa and Ableton Live, analog electronics (modular synths, guitar effects), melodica and The Cracklebox (R.I.P. Michel Waisvisz) on stage. Previously he used Audiomulch on the Windows platform for all live work. He uses a joystick and the Kaosspad 2 as the "fretboards" for his instrument. His compositions blend industrial sounds, found sounds, abstract sound textures and acoustic instruments into sound collages.
http://www.myspace.com/­korhanerel
http://www.reverbnation.com/­islakkopek
MICHAEL FISCHER arbeitet an Saxophon, Violine, Radiostudiosetup, CDsoundscapes, Conductions im Bereich Improvisierte/Neue Musik/Klangkunst an der Sprachimmanenz von Klängen u. deren kontextuellen Bezügen sowie seit 1999 zum elektroak. Phänomen Feedback. 
Zahlreiche Ensemblegründungen, -beteiligungen, genreübergreifende Projekte, u.a. Vienna Improvisers Orchestra, VIST AG, connex:context, 'O', Meeting Point, TheIntellectualUnconscious, SprachKlang_Landschaften /2009: Oberwarter Symphonie; Literatur in Grün mit Petra Ganglbauer. 
Arbeiten mit AutorInnen – Schwerpunkt experimentelle Lyrik – wie Gerhard Jaschke, Marietta Böning, Ilse Kilic & Fritz Widhalm, Peter Pessl, Semier Insayif, Dieter Sperl, Dimitrij Prigow, Gerhard Rühm u.a. Conductions für Improvisationsorchester für Festivals. Kooperationen mit Daisuke Terauchi, Tamaho Miyake, John Edwards, Hilary Jeffery, William Parker, Ito Atsuhiro, Peter Jacquemyn, Irene Schweizer, Burton Greene, Marcos Baggiani u.v.a.; Kooperationen mit KünstlerInnen der Bereiche Performance, Tanz, Installation, Visuals wie Lore Heuermann, Marc Adrian t, Eileen Standley, Makiko Ito, Ken Okami. Festivals in Europa und Japan.