Samstag, 19.12.2009
[timed offdate="2012mmdd"]
---
POLIQUAX 
Mathias Koch – Schlagzeug
Lukas Kranzelbinder – Kontrabass
Georg Vogel – Klavier 
MIA ZABELKA TRIO 
Mia Zabelka – Violine
Johannes Frisch – E-Bass, Electronics
Pavel Fait – Schlagzeug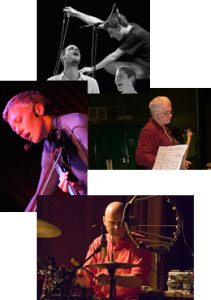 ---
POLIQUAX
… Poliquax mahnte sie zur Geduld und stieg in seine Rakete …
http://www.myspace.com/­lukaskranzelbinder
http://www.myspace.com/­georgvogel
MIA ZABELKA TRIO
The MIA ZABELKA TRIO was founded in 2009. Austrian violin adventurist MIA ZABELKA's mission is to expand the capabilities, sound, scope, performance and experience of the Violin to levels never before attempted, seen or heard.
She has developed a unique language based on the de- and reconstruction of the violin's sonic possibilities, expanding the instrument using live electronic effects and innovative performance techniques.
The violin, voice and her own body transform into sound bodies which are at once organic and primal, screaming, lyrical, composed and explosive.
She has given concerts and performances throughout Europe, America and the former USSR and played with David Moss, John Zorn, Fred Frith, Peter Kowald, Phil Wachsman, Franz Hautzinger, Eliott Sharp, Martin Siewert, Joelle Leandre, amongst others. She is a three time winner of the International Prix Ars Electronica.
Mia Zabelka is a pioneer of electroacoustic performance and composition in Austria.
Her congenial partners in this new formation are Johannes Frisch, E-Bass, Electronics, and Pavel Fait, Drums.
Since the mid-'80s, PAVEL FAIT has been one of the most prominent musicians on the Czech alternative rock scene. As a drummer, a composer, and a bandleader, he has been instrumental in the shaping of a distinctive Czech rock identity. Back home, he first got noticed among the seminal group Dunaj. Internationally, he is best-known for his duo with Iva Bittová and for his appearance in the film and on the soundtrack Step Across the Border about avant-garde guitar hero Fred Frith. 
JOHANNES FRISCH is looking back as a double bass player on more than three decades of mainly improvised music, touring Europe and oversea, collaborating with numerous musicians, amongst them Johannes Bauer, Lol Coxhill, Peter Hollinger, Maggie Nicols and Irene Schweizer. He has been involved in a great variety of music groups and projects with many CD-releases. Currently he is member of the Kammerflimmer Kollektief, based formation between electronica and ac oustically improvised music. As a bass player he uses his instrument as a sound machine, exploring also extreme techniques of sound production.
The mia zabelka trio pushes improvisation to the forefront, that means interaction and communication between three distinct musical voices.