Thursday, 15.02.2018
[timed offdate="20180215″]
20:00 @amann studio
live stream from 20:15 – audio now online (without password!)
---
[/timed]
Igor Gross & Black Page Orchestra Members
Maiken Beer – cello
Alexander J. Eberhard – amplified viola & live electronics
Alfredo Ovalles – grand piano
Matthias Kranebitter – live electronics
Igor Gross – vibraphone, live electronics
Simon Goritschnig – irrational brush poet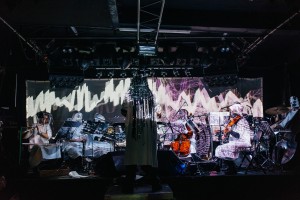 ---
Maiken Beer
Geboren 1977 in Wien. Lebt und arbeitet als freischaffende Cellistin im Bereich klassischer, zeitgenössischer und improvisierter Musik. Sie ist Gründerin des Duos "celloduoburghardtbeer" und Mitglied des The Black Page Orchestra. Weitere Zusammenarbeit u.a. mit Clemens Wenger, Matthias Kranebitter, Julia Purgina, Mirela Ivičević, der JazzWerkstatt Wien, der Neuen Oper Wien, snim, dem Ensemble szene instrumental, dem Janus Ensemble und dem Ensemble Reconsil.
https://www.asiom.at/maiken-beer/
Alexander J. Eberhard
"Kompositionen, graphisch notierte Musik als Anregung zur Improvisation, Filmmusik, Klanginstallationen, elektronisches Clubmusik-Duo – der Komponist und Bratschist Alexander J. Eberhard lässt sich nicht so einfach auf ein Fach festlegen."

Sabine Reiter (mica – music austria)

http://eberhard.klingt.org
Alfredo Ovales
…Alfredo is in demand as a soloist and chamber musician internationally. Engagements have taken him to Belarus, Germany, Poland, Romania, Spain, and the Dominican Republic, among others, performing at wonderful venues including the Berliner Philharmonie, the Wiener Konzerthaus, and King's Place in London. He had the pleasure of performing not only solo recitals but also together with orchestras such as  the Polish Baltic Philharmonic Orchestra in Gdańsk, the Orchestra of the Academic and Musical Theater of Minsk, Belarus and the National Symphony Orchestra of the Dominican Republic…..
Due to his never-ending desire for musical experimentation, Alfredo devotes a big part of his time working with composers and performing premieres of pieces written for him or in collaboration with groups like Diaspora Duo, Green Thing Ensemble, and The Black Page Orchestra.
http://alfredoovalles.com
Mathias Kranebitter
Matthias Kranebitter (*1980) studierte in Wien elektroakustische Komposition bei Dieter Kaufmann und German Toro-Perez, Medienkomposition bei Klaus-Peter Sattler, postgradual Komposition in Amsterdam sowie in Graz bei Alexander Stankovski und Beat Furrer.
Seine Musik thematisiert Aspekte unserer Mediengesellschaft mit ihrer Informationsflut. Sie zeichnet ein hohes Maß an Dichte und Heterogenität aus, das Miteinbeziehen unterschiedlichster (un)musikalischer Materialien als Enthierarchisierung und Relativierung von Dogmen und Tabu. Er arbeitet verstärkt mit Elektronik und neuen Medien.
Seine Arbeiten wurden u.a. prämiert mit dem 1.Preis beim Gustav Mahler Wettbewerb 2006, 1.Preis Project Holland Symfonia Gaudeamus Music Week Amsterdam 2009, Impuls Kompositionspreis Graz 2013, Publicity Award der Austro Mechana 2013, Stadt Wien Förderungspreis 2014 und österreichisches Staatsstipendium 2016. Bisherige Zusammenarbeiten fanden u.a. mit Ensembles wie dem belgischen Nadar Ensemble, Decoder Ensemble Hamburg, Ensemble Mosaik Berlin, Talea Ensemble New York, Ensemble Phace, Klangforum Wien und dem RSO Wien statt.
2015/16 erhielt er das Berlinstipendium der Akademie der Künste Berlin.
Er ist Mitbegründer des Unsafe+Sounds Festivals und künstlerischer Leiter des Black Page Orchestras.
https://matthiaskranebitter.com/archive/theblackpageorchestra/
Igor Gross hat seinen Werdegang als Schlagwerker im klassischen Bereich begonnen. Während seines Studiums an der Musikuniversität Wien (Konzertfach Schlagwerk) substituierte er in verschiedenen Orchestern und Aufführungsstätten (Wiener Philharmoniker, Wiener Staatsopernorchester, Radio Sinfonie Orchester Wien, Tonkünstler Niederösterreich,…).
Mehr und mehr entwickelte er jedoch seine Vorliebe für neue Musik, elektronische Musik, frei improvisierte Musik und begann eine intensive Zusammenarbeit mit zeitgenössischen KomponistInnen.
Er spielt seither in den wichtigsten Ensembles für Neue Musik wie dem Klangforum, Ensemble Phace, Blackpageorchestra Ensemble 20. Jahrhundert, Ensemble Platypus,  u.a. In seine zahlreichen Kollaborationen mit KomponistInnen ist ihm die Umsetzung der musikalischen Ideen auf seinen Instrumenten auf höchstem Niveau ein besonderes Anliegen.