Saturday, 29.10.2016
[timed offdate="2012mmdd"]
As part of the ongoing collaboration with KulturKontakt Austria I am glad to host Franciszek Araszkiewicz as artist in residence at my studio for several days starting October 24. The result of his sound work will be presented in a concert on the 29th of October.
His electroacoustic compositions will be followed by a second part of the concert evening, a duo with Lukas Lauermann, arranged by Michael Fischer who is well known for his innovative investigation on the saxophone including feedback generated sound textures as well as launching the Vienna Improvisers Orchestra in 2004.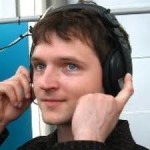 20:00 Franciszek Araszkiewicz
Electroacoustic compositions, including:
Study of Brainfields 2 for live electronics governed by brainwaves and electromagnetic fields (2016)
Fluctuation Architecture for electromagnetic fields of Amann Studios (2016)
Aleph and Continuum for fixed media (2015)
2nd performance:
Isamackuehl
Michael Fischer, tenor saxophone, violin
Lukas Lauermann, cello
A duo sharing the free improvisational, polylogical moment within the creational process, negotiation, reception, commitment. A multi layered speech music performance on extended elaborated techniques and profile.
---
The two parts of the evening can be seen as juxtapositions of two different approaches, one being the compositional way, leaving room for somehow aleatoric influences like the electromagnetic field of my studio (which is hopefully strong enough for this occasion), the other being some kind of instant composing, leaving much to the improvising momentum.
A further thought is the idea of a get together between musicians from different countries and musical backgrounds in the sense of the Artist in Residence program as I understand it, being a way of intercultural exchange.
see also: Live recording series at amann studios
---
Biographies
Franciszek Araszkiewicz studied composition at the Academy of Music in Krakow (with Krzysztof Knittel and Marcel Chyrzyński). He composed vocal, instrumental, electroacoustic music, audio-visual and interactive installations. His works have been performed on many Polish ad international festivals. He received many prizes, awards and prestigious grants in Poland and abroad, including Avenir Grant (2014) awarded by the Arnold Schoenberg Center in Vienna, scholarship City of Cracow in the field of music (2014), artist-in-residence in Villa Waldberta, Munich (2015), and the Minister of Culture and National Heritage prize for students of art schools for outstanding achievements in the creative arts.
Composer in Residence of the Bundeskanzleramt and KulturKontakt Austria in 2016.
Michael Fischer musician-composer
improvised/experimental music – sound art – noise on the speech-immanence of sounds
since 1999 connecting the electro-acoustic phenomenon feedback
developed the feedback_saxophone
works with tenor saxophone, violin, cd player soundcapings
cross collaborations in literature (focus experimental poetry), dance, performance, installation, video
launched the Vienna Improvisers Orchestra in 2004, since then elaborating an individual hand-sign practice (instant composition conducting, term M.F.)
instant composition conductings for large ensembles, orchestras, choirs, spontaneous gatherings
biographical text cited from http://m.fischer.wuk.at