Saturday, 13.09.2014
20:00 @amann studio
live stream from 20:15
Unkostenbeitrag € 10.-/8 .-
---
SPILL ist das Duo von Magda Mayas, Klavier und Clavinet und Tony Buck, drums/percussion.
Im letzten Jahr haben sie ihr drittes Album veröffentlicht und spielen seit 2003 in Europa, den USA, Australien und Libanon.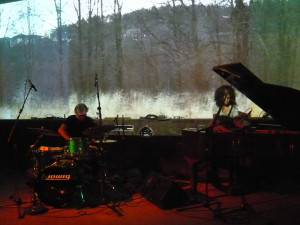 ---
BIOS
MAGDA MAYAS – piano, clavinet
Magda Mayas is a pianist living in Berlin.
Developing a vocabulary utilizing both the inside as well as the exterior parts of the piano, using preparations and objects, she explores textural, linear and fast moving sound collage.
Lately she has also focused on the clavinet, an electric piano from the 60s with strings and metal chimes, where she engages with noise and more visceral sound material, equally extending the instrumental sound palette using extended techniques and devices.
Current projects are "Spill", a duo with drummer Tony Buck, a duo with Anthea Caddy (cello), a duo with Christine Abdelnour (sax), "Great Waitress", a trio with Monika Brooks (acc) and Laura Altman (cl) and different collaborations with Andy Moor, Clayton Thomas and Peter Evans.
Magda Mayas has performed and toured in Europe, the USA, Australia and Lebanon and collaborated with many leading figures in improvisation and composers such as John Butcher, Peter Evans, Annette Krebs, Phill Niblock Andrea Neumann, Axel Dörner, Thomas Lehn and Tristan Honsinger.
www.magdamayas.jimdo.com
Tony is regarded as one of Australia's most creative and adventurous exports, with vast experience across the globe. He has been involved in a highly diverse array of projects but is probably best known around the world as a member of the trio The Necks.
Following studies and early experience in Australia he spent time in Japan, where he formed PERIL with Otomo Yoshihide and Kato Hideki before relocating to Europe in the mid-nineties.
Some of the more high profile projects he has been involved with include the band Kletka Red, and touring and recording with, among others, The EX, The Exiles, and Corchestra, and involvement with most of the international improvisation and new music community and festivals.
He also creates video works for use with live music performance and has had pieces shown in Tokyo, Belfast, Berlin, New York and Sydney.
Current projects include long standing duos with Axel Doerner and "SPILL" with Magda Mayas; "AUS" with Johannes Bauer and Clayton Thomas, New York based trio "Glacial" (with David Watson and Lee Renaldo) and "TRANSMIT" (a guitar driven post-rock project based Berlin).
www.thenecks.com
www.myspace.com/projectTransmit
REVIEWS
Spill is the Berlin-based duo of Magda Mayas on piano and Tony Buck on drums…..While we've all heard pianos played percussively, it's much rarer to hear someone play the drums with as much attention to melody as Buck… The friction they generate is instead the result of being so continuously and seamlessly intertwined that conflagrations of star-burning intensity naturally appear at every other twist. Mayas has a spectacularly gifted ear for timing, and translates it into her hands on the keys, giving Buck the freedom to create more and more unusual combinations of melody and rhythm. This duo is one of those rare groups where not only is the instrumentation perfectly matched, but the style with which the musicians approach their instruments is so personal that it's astonishing how well it all comes together.
Andrew Choate 2012
———
The next night's highlight was the duet by Tony Buck (percussion) and Magda Mayas (prepared piano). Harmonics seeped from all that they struck, scraped and wrung out producing a luscious ebb and flow of complex layers. Lost in the evocations of this piece, I imagined at one point that I was hearing the everyday sounds of a small town, notated and reproduced in musical form. Eyes closed, I lost track of instrument identity sometimes and had to look back at the stage to understand exactly what was creating these sounds so full of cadence, resonance and melody.
———
Magda Mayas & Tony Buck / Gold
There's just 36 minutes of music here, but every second of it is interesting. Pianist Mayas plays chunky, bell-like clusters that seem to observe a slowly evolving musical logic, neither obviously melodic nor conventionally harmonic. Drummer Buck for the most part works a parallel path, working busily but delicately round his kit. The opening minutes of "mercury machine" are full of light, skittering figures on the metal parts and big, damped clusters on the piano, some of them hand-damped inside the sound box, I suspect. It opens out thereafter, but there's no attempt here to emulate the iconic piano and drum duos of the past – Coltrane and Ali, Taylor and Roach. Mayas and Buck create their own intimate languages and in the process deliver something very special and exactly the right length.
THE WIRE, Brian Morton April 09