KulturKontakt Austria bietet den Composers in Residence die Möglichkeit, in den amann studios an ihren Projekten in geeigneter Studioumgebung zu arbeiten und die entstandenen Werke in einem öffentlichen Konzert in der Reihe "AIR 2 hEar – composers' encounters at amann studios" im kleineren Rahmen am Ende der fünftägigen Studiosession zu präsentieren, gemeinsam mit österreichischen Musikschaffenden.
Diese Neuauflage der "live recording sessions" ist Teil der seit zwei Jahren bestehenden Kooperation von KulturKontakt Austria mit amann studios. Als Gäste der Composers in Residence von Bundeskanzleramt und KulturKontakt Austria fungieren nun – in Umdrehung des ursprünglichen Prinzips – Musikschaffende und KomponistInnen aus Österreich.
AIR stands for artists in residence program by Kulturkontakt Austria. The concert series is a collaboration between Kulturkontakt and Amann Studios. The artists in residence work for one week at a dedicated space in Amann Studios and show their works at the end in a concert together with Austrian Composers, invited by Christoph Amann.
Thursday, 14.09.17
[timed offdate="20170914″]
---
[/timed]
Piyawat Louilarpprasert – Siravith Kongbandalsuk (Trombone)
Mirage 4.0.x1.#4 for trombone and electronics (20 mins)
—
Stefan Nussbaumer
Live electronics
© Piyawat Louilarpprasert  – Stefan Nussbaumer © unbekannt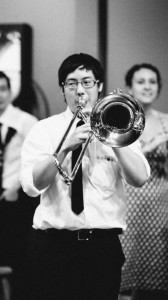 Siravith Kongbandalsuk, © Piyawat Louilarpprasert

---
Piyawat Louilarpprasert
Louilarpprasert's music focuses on exploring the behavior of sonority, transforming into the different forms of musical characters. His music was performed in numerous music festivals such as Lucerne Festival Academy 2016, Orkest Ereprijs Young Composer Meeting 2017, Gaudeamus Musikweek Academy 2016, Darmstadt New Music Festival 2014, Música y Arte: Correspondencias Sonoras 2016 and Dian Red Kechil Young Composers Residency 2015. He has been awarded several grants and composition prizes such as The Charles Stewart Richardson Scholar Award, Fund for Classical Promotion Under the Patronage HRH Princess Galyani Vadhana, Royal College of Music Concerto Competition 2017, Léon Goossens Prize 2016, Princess Galyani Vadthana Youth Orchestra Call for Score 2015, 1st prize Asia-Pacific Saxophone Academy Call for Score 2015, 1st prize SEADOM Composition Competition 2015, 1st prize Young Thai Artists Awards, Asian Composer League Call for Score 2014 and Young Composers in Southeast Asia Competition, 2013.
Piyawat is currently studying D.M.A. in composition at Cornell University, Ithaca, New York with Kevin Ernste and Marianthi Papalexandri Alexandri. Graduated with a Bachelor's degree in composition and conducting from College of Music, Mahidol University, Thailand, Master's degree in Composition at Royal College of Music, London. His mentors were Valeriy Rizayev, Dai Fujikura, Jonathan Cole, Gilbert Nuono and Pamornpan Komolpamorn. He has worked with international composers such as Wolfgang Rihm, Olga Neuwirth, Chaya Czernowin, Helmut Lachenmann, Zygmount Krauze, Ken Ueno and many others.
As Artist in Residence, with the Austrian Federal Chancellery in cooperation with KulturKontakt Austria in 2017, Piyawat is working with Ensemble Reconsil, Ensemble Platypus, Vienna Improvisor Orchestra and Stefan Nussbaumer, Amann Studio.
https://www.musicaustria.at/ich-komponieren-jeden-tag-piyawat-louilarpprasert-im-mica-interview/
Mirage 4.0.x1.#4 for electronics
This work is the exploration of electroacoustic sounds with the mobile sensor-ship. Using the combination between max/msp and a simple iphone sensor application creates a variety of sound dimensions. The music has 3 types of sound: 1) the acoustic sound (pure sonic from the instrument); 2) electronics: background and pre-recorded sound (with and without live process) 3) physical movement (with live process). The acoustic sound is the main material of the piece. It creates the development and sound direction of electronics. The electronics work in 2 systems, 1. creating background soundscape and ambient 2. modifying and modulating pre-recorded sound with sensor. Most of the sounds are projected by physical movement of the instruments (with phone sensor attached). The quality of sounds relies on the different physical and gesture movements, such as tilt of X-Y parabola, acceleration, rotation and spaces. With the combination of those 3 different components, it creates both the clarity of timbre and the ambiguity of soundscape. The piece is 20 minutes long. Siravith Kongbandalsuk, a Thai trombonist from Maastricht Conservatory of Music, Netherlands will perform the piece with me.
Siravith Kongbandalsuk (Trombone)
Siravith Kongbandalsuk, a trombonist from Thailand, performs not only classical music but also collaborates with different forms of art, performance and contemporary music. He won several international performance prizes such as 2nd Prize British Trombone Society, Silver Award from 8th Svirel International Music Competition, Slovenia in 2016, 3rd prize, Brass and Percussion Seminar and trombone Solo competition (2013), finalist in 15th Osaka International Music competition. He performed at Asian Composer League (2015) and performed in 1st prize composition as a soloist in Young Thai Artist Award (2013). He has performed in many ensembles and orchestras such as Princess Galyani Vadhana Youth Orchestra, Thailand Philharmonic Orchestra, Siam Sinfonietta and Southeast Asian Wind Ensemble (2010). Siravith graduated from College of Music, Mahidol University with Philip Brink, now he is currently studying at Conservatorium Maastricht with Bart Claessens. While he was studying, he had worked with innovative conductors such as Peter-Lukas Graf, Christoph Poppen, Norman Huyhn, Rossen Gergov, Peter Veale, Damian Iorio, Alan Cumberland, Hikotaro Yazaki and Jason Lai. Also he took master classes with virtuoso trombonist such as Jonas Bylund, Ricardo Casero, Branimir Slokar, Brett Baker, Jarod Vermette, Teppo Alestalo, Niklas Larsson and John Barber.
Stefan Nussbaumer
Stefan Nussbaumer, ursprünglich aus der bildenden Kunst (Malerei) kommend, arbeitet auf ungewöhnliche Art und Weise an der Schnittstelle zwischen elektronischer Klangerzeugung und visueller Kultur. Während sich in den letzten Jahrzehnten auf dem Rücken der Klubkultur eine Visualisten-Szene entwickelt hat, die gespielte Musik auf einer visuellen Ebene mit bewegten Bildern zu unterstützen sucht, beschreitet Nussbaumer den umgekehrten Weg: er macht in seiner Arbeit das Visuelle zum Ausgangspunkt der musikalischen Komposition.
Mittels eines selbst entwickelten Smartphone-basierten Controllers nutzt er Farbinformation um algorithmische Klangerzeugungs-Prozesse auf dem Computer zu steuern. Wenngleich sich Stefan Nussbaumer in seiner Arbeit auf die Verwendung moderner digitaler Technologien stützt, versteht er sie dennoch als Fortführung einer allgemeinen experimentellen, improvisatorischen musikalischen und bildnerischen Praxis, in deren Zentrum der Klang im Speziellen und die Erscheinungsformen unserer realen Lebenswelt im Allgemeinen stehen.
Als Dreh- und Angelpunkt fungiert dabei die Entwicklung eigener unkonventioneller Schnittstellen ("Interfaces"), wie er auch in vorangegangenen Projekten beweisen konnte. Beispielhaft dafür steht etwa "The Sound of eBay" (entwickelt mit dem Künstlerkollektiv UBERMORGEN), in dem Benutzerseiten der Online-Handelsplattform als Ausgangsmaterial zur algorithmischen Erzeugung kurzer Musikstücke verwendet wurden.
https://soundcloud.com/5tefan-negulesco
http://pustota.basislager.org
* 1966         Lienz, Österreich
1984            Beginn eines Architekturstudiums an der Technischen Universität Wien
1985-92      Malereistudium an der Hochschule für angewandte Kunst, Wien
Seit Ende der 80er Jahre Ausstellungstätigkeit in Gruppen- und Einzelausstellungen. Daneben Tätigkeit als Grafikdesigner, Programmierer, Lehrer.
musikalische Projekte und Kollaborationen
2007-08        "The Sound of eBay", in Kooperation mit dem Kollektiv ÜBERMORGEN, Programmierung einer Software, die anhand beliebiger eBay User-Profile kurze Musikstücke generierte und diese über die Projekt-Website  zum freien Download verfügbar machte, Präsentationen des Projekts unter anderem bei TransitionMX Festival (Mexiko City), Recontres Internationales (Madrid, Paris), New Museum New York, Sight and Sound, Maryland Institute College of Art [MICA] Baltimore, Stuttgarter Filmwinter, YOU_ser 2.0 (ZKM Karlsruhe), CREAM Japan 2009, Pikslaverk 2008 (Reykjavik)
Seit 2011   Improvisierte Musik in wechselnden Formationen und soloAuftritte u.a. bei Velak Gala, Klangkunsttage, Konfrontationen Nickelsdorf (Installation, Kleylehof), Burgenländische Tanztage, Zaal 100 (Amsterdam), Zentrale – Raum für Klang und Prozesskunst
Seit 2014    Entwicklung der Android-basierenden Applikation "VideOSC" zur Steuerung algorithmischer Klang-Generation über die Farbinformationen des Videostreams der in einem Smartphone eingebauten Kamera
2016    Präsentation + Workshop zu "VideOSC" bei der Jahreskonferenz der südkoreanischen Gesellschaft für elektro-akustische Musik, Seoul National University, Südkorea