Saturday, 29.10.2016

As part of the ongoing collaboration with KulturKontakt Austria I am glad to host Franciszek Araszkiewicz as artist in residence at my studio for several days starting October 24. The result of his sound work will be presented in a concert on the 29th of October.
His electroacoustic compositions will be followed by a second part of the concert evening, arranged by Michael Fischer, who is well known, not only for founding the Vienna Improvisers Orchestra and creating instant composing settings as well as hosting a radio program for improvised music on the Viennese non-commercial Radio Orange.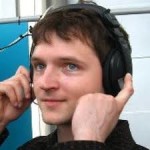 20:00 Franciszek Araszkiewicz
Electroacoustic compositions, including:
Study of Brainfields 2 for live electronics governed by brainwaves and electromagnetic fields (2016)
Fluctuation Architecture for electromagnetic fields of Amann Studios (2016)
Aleph and Continuum for fixed media (2015)
2nd performance:
Isamackuehl
Michael Fischer, tenor saxophone, violin
Lukas Lauermann, cello
A duo sharing the free improvisational, polylogical moment within the creational process, negotiation, reception, commitment. A multi layered speech music performance on extended elaborated techniques and profile.